Professional IT Support in Berlin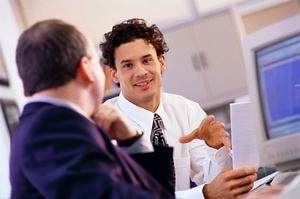 More and more companies are starting to outsource the support and management of their IT environment, because external specialists can do this work faster, better and cheaper than their own staff. If you value good advice, high availability and short response times, simply switch to IT support with GEOTEK. Whether it's only for ad-hoc need, 2nd level support of your own IT administrator, or the complete outsourcing of IT services - we offer the right care concept for every need.
GEOTEK can help you to save on operational IT costs while increasing reliability by outsourcing those IT tasks that are not practical to perform inhouse. Call or write us today and let us make a free offer!
Who we are
GEOTEK Datentechnik GmbH is a well known IT service provider located in Berlin, Germany. Founded in 1980 as a research company in cooperation with the Berlin Government, our core business is IT consulting and IT outsourcing support for computer networks of any size, including software deployment, application management and help desk support.
Based on the availability of new virtualisation software, we also offer a unique Hosted Virtual Server solution as an alternative to classical office fileservers. We are particularly geared towards setting up complete IT infrastructures for international companies coming to Berlin or other locations in Germany.
If you are a multi-national company, you know the advantages of centralized administration. But there are still some IT tasks that need the physical presence of a technician, such as first time installation, emergency support, on-site-training, providing internet access or buying localized computer equipment. If your company spans multiple time zones, it is also difficult to maintain centralized hotline support during remote local business hours and in German.
GEOTEK can help you reduce travel expenses and other costs, by providing all the services that are impractical from your central IT department to supply. More about our IT Service...